Rainwater
The Wavin rainwater range offers a choice of six rainwater gutter profiles to meet the varying aesthetic, performance and installation requirements for all types of buildings, from single dwellings to large residential, commercial or industrial premises.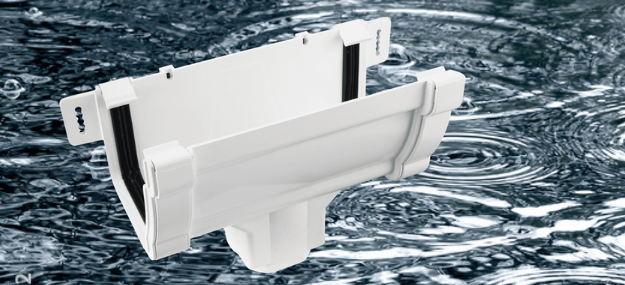 Wavin Rainwater Gutter Range Profiles
We have a range of domestic, industrial and commercial profiles to suit your project needs.
RoundLine
Wavin RoundLine offers you a classic half-round profile ideal for domestic buildings.
SquareLine
Wavin SquareLine gives you a smart, efficient rectilinear profile gutter system ideally suited for domestic buildings.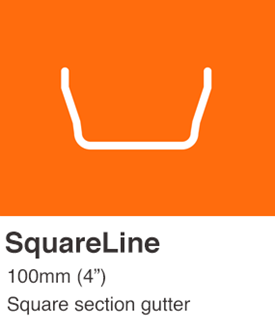 StormLine
Choose Wavin StormLine when you require a higher capacity domestic system with a classic ogee shape or when you want clean attractive lines around the roof perimeter or conservatory. Available in Black and White colour options.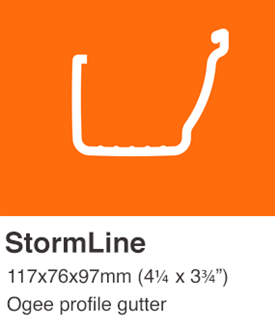 DeepLine
Wavin DeepLine is a semi-elliptical profiled gutter system that offers you a compact higher capacity domestic system to cope with increased rainwater levels. Now available in Anthracite Grey (RAL 7016) to match windows & doors.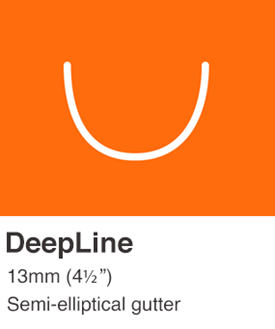 SuperLine
Wavin SuperLine offers you a classic half-round profile ideal for large domestic and small commercial buildings.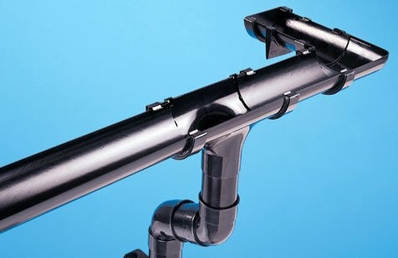 RoofLine
Wavin RoofLine offers you a very high-capacity system in a classic half-round style. The profile is ideal for large commercial and industrial buildings.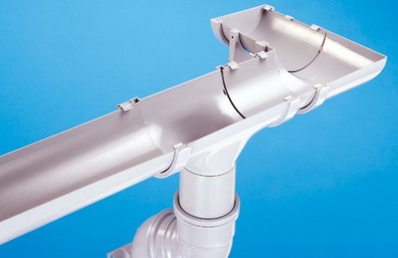 Designed to handle more rainwater
Wavin Rainwater systems are designed to be installed quickly, give outstanding performance and look aesthetically pleasing.Features include hydrodynamic running outlets that handle 30% more rainwater than similarly sized competitive systems.
And all gutter fittings feature wide, retained seals providing a secure, watertight fixture with the flexibility to allow for thermal expansion with expansion line markings and a stopper to ensure correct installation.
Connecting the gutter to fittings is also easy with the 'Flexiclip' jointing mechanism - as the clip is flexed rather than the fundamental component. For an aesthetically pleasing finish, fittings have been engineered with concealed sockets to hide roughly cut downpipe ends. If installing StormLine, there is also a hidden hanging bracket option for a seamless bracket-free appearance.
Coming Soon - Wavin Rainwater with Recycore Technology
As part of Wavin's global commitment to sustainability, we have a clear ambition to lead the industry in sustainability by 2025. Our innovative Recycore technology combines sustainability with reliability and performance, to create industry-leading drainage products.
Manufactured with 55% recycled material

Wavin RoundLine, SquareLIne and DeepLine will be manufactured with Recycore as a continuous improvement process. With Wavin Recycore technology, the new gutter and downpipes will contain at least 55% recycled PVC-U by weight. This new innovation will be available in the RoundLine, DeepLine and SquareLine guttering ranges.



New look, same performance
Recycore gutter and pipe will feature an outer layer manufactured with glossy virgin PVC-U and an inner 'Recycore' layer for a sustainable solution.
All black and anthracite grey downpipes will have a dark grey inner. White will have a white shade for the inner layer.

Both the gutter and downpipe will continue to provide the same high level of performance you have come to rely on from Wavin.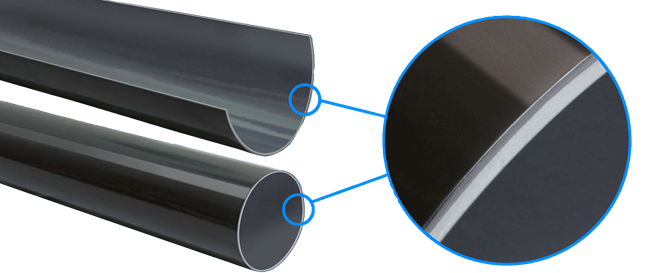 New Anthracite colour
Wavin Osma DeepLine is now available in Anthracite Grey (RAL 7016) to match the increasingly popular colour scheme being used for external windows and doors in Ireland.