Wavin celebrates 65 years of success in Ireland
1958 - Where it all started
With the support of the Irish Government and the then Minister for Industry, Sean Lemass, and the Irish Development Agency (IDA), David McIlvenna and Tom McMahon brought Wavin to Ireland to help to solve one of the great challenges of the day – delivering safe drinking water to Ireland's growing population.
Wavin Ireland began life in a small industrial unit in Drumcondra before moving to our current site in Balbriggan where we employ over 60 people in Manufacturing, Sales & Marketing, Finance, Technical Support and Administration.
As we celebrate 65 years, these principles of Wavin's origins in Ireland and core functions are still ever-present and valuable to this day.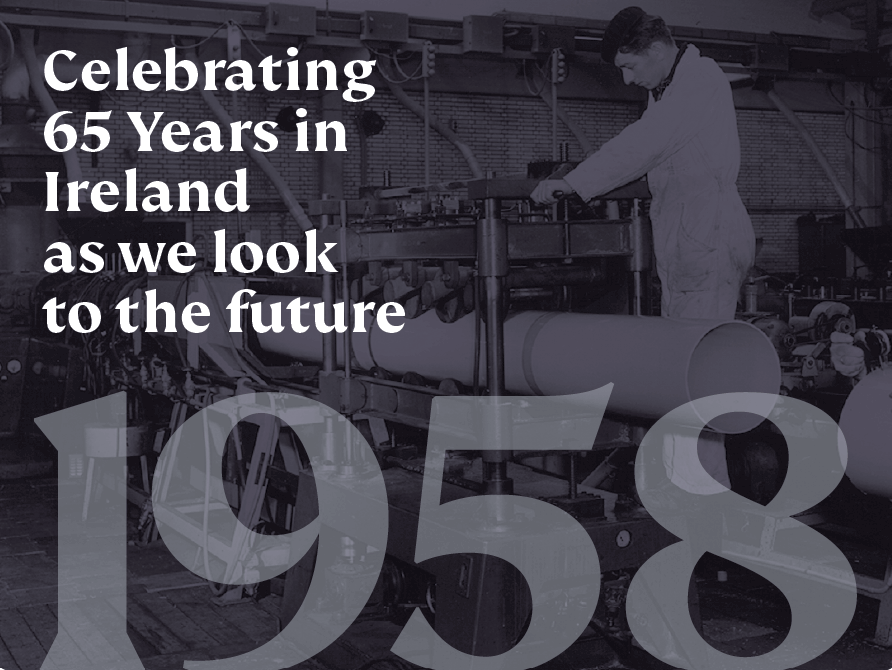 The Early Days
Wavin Ireland began life in a small industrial unit in Cian Park Drumcondra in 1958 employing just 20 people. In the mid-1950s Armagh County Council became the first local authority anywhere on the island to use Wavin pipes and this business quickly expanded nationwide to Local Authorities, Group Water Schemes and National Utility Providers.
Wavin enjoyed prosperous growth and production grow from 240 tons in the first year of operations to over 10,000 tons by 1970. As Wavin grew there was a need to move operations. In 1962, Wavin relocated to a new 26-acre purpose-built site in Balbriggan where they remain today. The official opening was performed by the then Taoiseach Sean Lemass who later served as Wavin Ireland's first Chairman.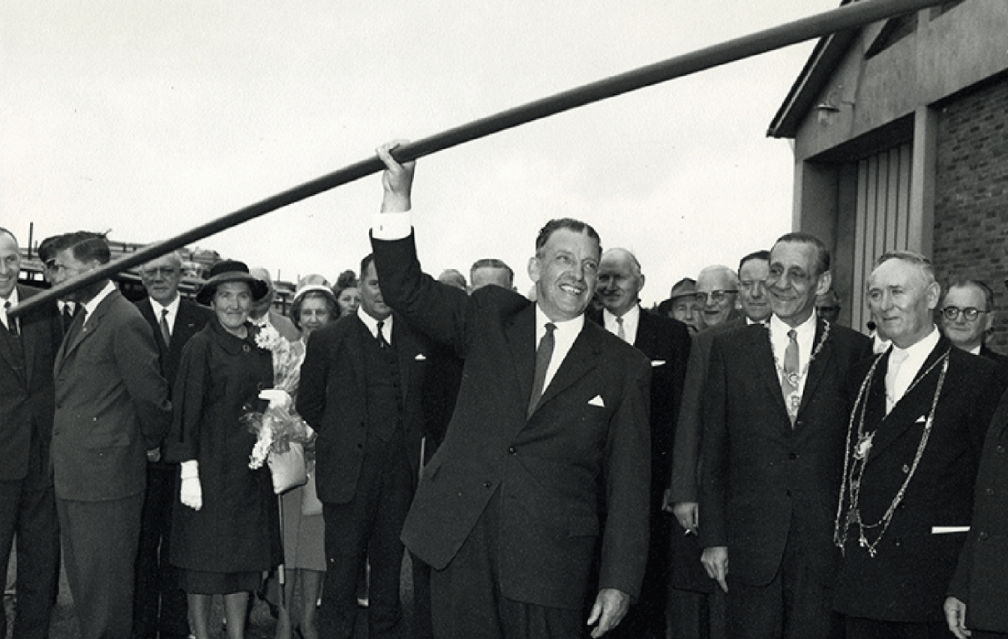 Raising the standards of Rural Living
Wavin is credited with inventing and pioneering the use of plastic pipes for water distribution. Wavin, together with the Department of Environment and Macra na Tuaithe brought running water to rural homes across Ireland through the Group Water Schemes initiative. Group water schemes became a household expression throughout Ireland as did the name the brand name Wavin.
The supply of piped water had an enormous contribution to the social and economic development of rural communities across Ireland and brought about fundamental changes to the quality of life and living standards for those living in rural Ireland. The absence of a reliable and safe water supply had raised questions about the economic future of rural Ireland, without the necessary infrastructure, the potential for growth in rural Ireland was seriously hindered.
The benefits of a piped supply were felt both industrially through development as well as rurally through improvements made to farming practices and efficiencies. For example, Wavin piping made it possible to graze stock in fields which traditionally had to be laid for meadows because they had no water. Durable and easy-to-handle plastic piping enabled farmers to bring water to the most inaccessible places, thus improving farm practices and outputs from farms.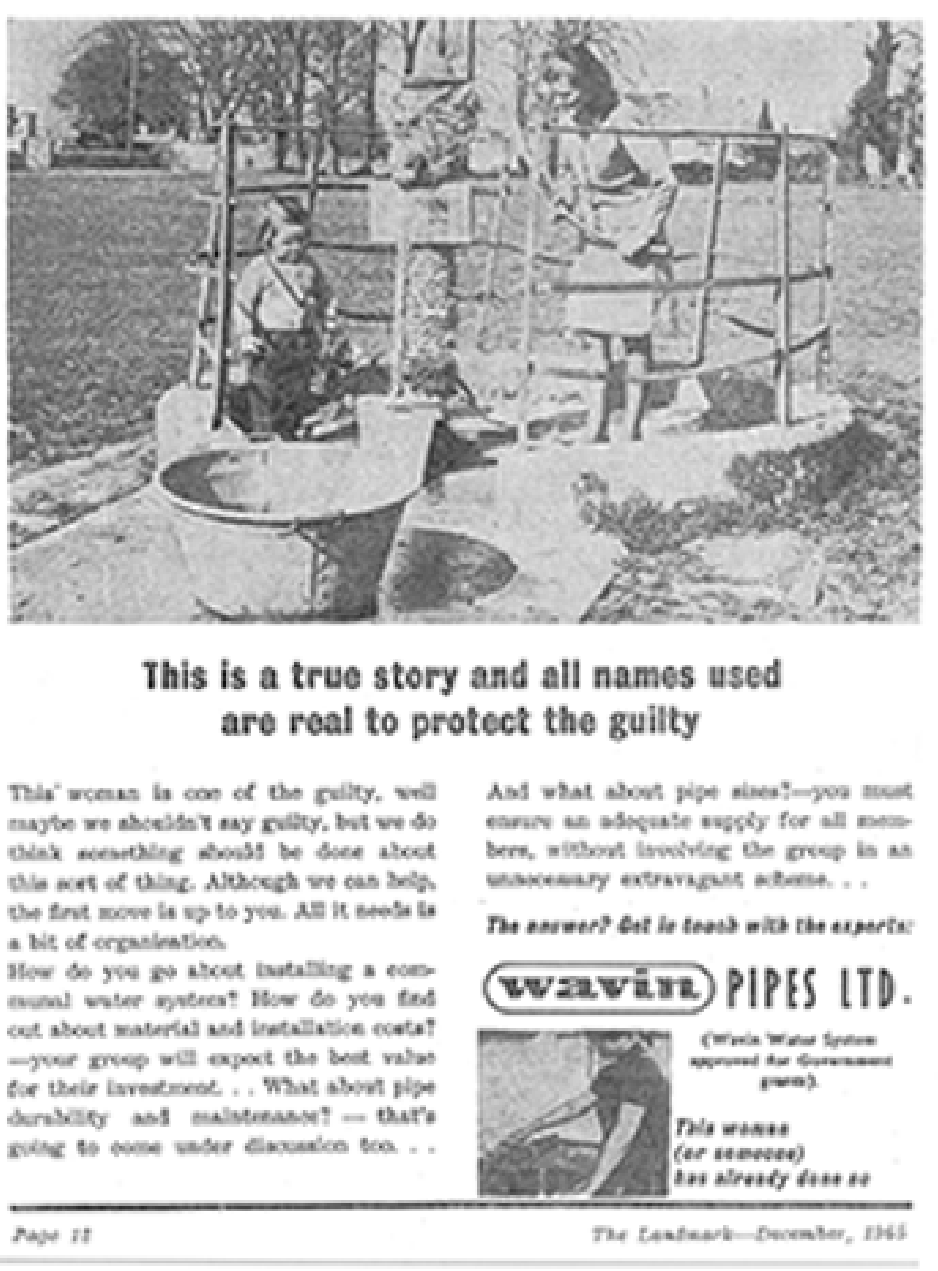 Group Water Scheme
The first Group Water Scheme was developed in the late 1950's and is credited to Father Joe Collins who arrived in Kilbride as parish priest in 1957. Collins originally trained as an engineer and sought to organize a water supply to the local houses from the springs. He was committed to providing running water, toilers and bathrooms to the homes in the townland of Kilbride, Co. Wicklow. The first Scheme was made up of 3 miles of Wavin 60mm hard PVC pipe.
A national water strategy aimed at increasing the provision of piped water in rural areas was subsequently rolled out and grants were provided to incentivise group water schemes. Grants covered two-thirds of the cost of the work and each scheme was asked to contribute the balance, this was made up of both monetary contributions and voluntary labour. The more labour that was done by the Group the less financial commitment needed.
Once the scheme was organised and approved a detailed drawing of the works was produced and sent to Wavin for pricing. Wavin worked collaboratively with each scheme sending their Technical Representative down to train the group in best practice techniques to ensure a smooth and efficient project completion.
Group Water Schemes was an outstanding success and changed the lives of many people living in rural Ireland. Figures from the 2006 census noted that 173,000 homes received their water via the rural schemes. Not only did rural Ireland benefit from Group Water Schemes but the philosophy and practices were employed by Governments in India and Africa for Group Water Scheme development.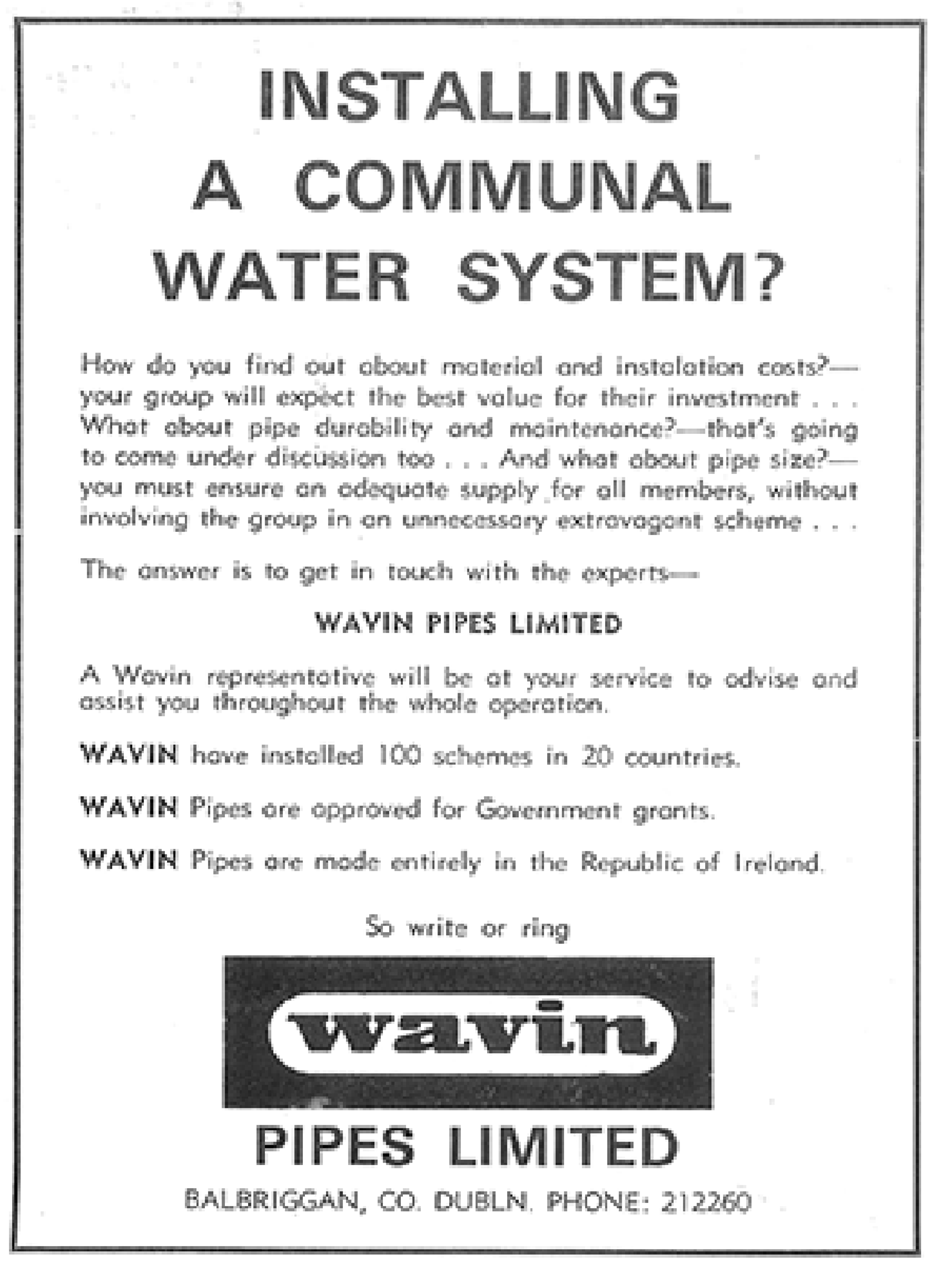 An Innovative Company
Wavin has long been known for its innovative nature, in 1978 Wavin Ireland developed and launched the market-leading Access Junction. It has been the number one selling WAJ on the Irish Market over the last 40 years and has been one of Wavin Ireland's most successful export products, a position that is still maintained today.
Outside of their core market, Wavin developed the Wavin Hula Hoop and Wavin Hurley. The Wavin Hurley was predicted to be a huge success and was launched on the Late Late Show. The Hula Hoop was met with such popularity and demand that street traders travelled from Dublin and queued outside our Balbriggan facility to purchase them.
Industry-leading innovation and product design are a major part of what we do and replicated in our optimal range of products and solutions.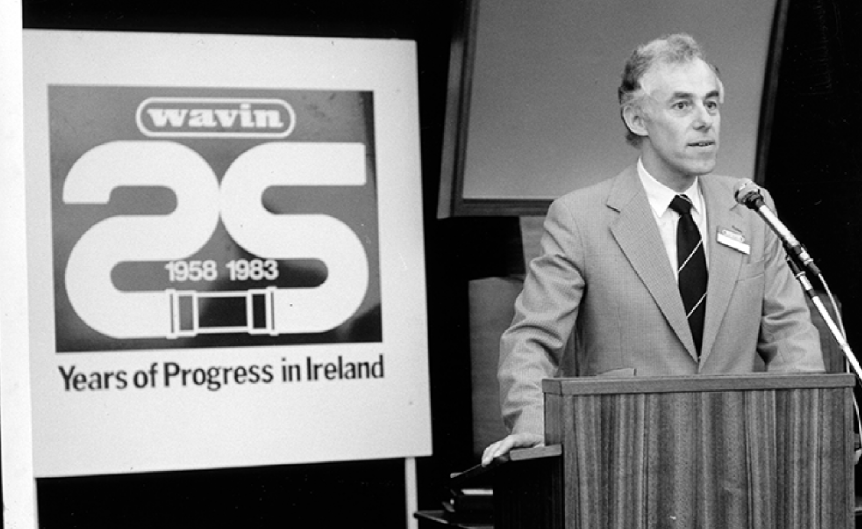 Today
Today Wavin employs over 85 people across Manufacturing, Distribution, Sales & Marketing, Technical Support, Finance and Administration in Balbriggan. Wavin Ireland aims to maintain its position as a leading manufacturer and supplier to the construction industry in Ireland. Our objective is to provide our customers with innovative and suitable solutions for their projects. Our mission is to generate continuous value for our employees, customers, partners, and shareholders. For our customers, we are the supplier of choice due to a complete, competitive, innovative and sustainable portfolio for Above and Below Ground applications.
From modest beginnings, Wavin Ireland has grown to become the largest manufacturer and leading supplier of plastic pipe systems and solutions in Ireland. Continued investment has ensured that we possess the most up-to-date manufacturing technology to enable us to maintain our position as a market leader.
With sustainable solutions ranging from Recycore Technology and the offering of EPDs, advancing life for the better and building healthy sustainable environments remains our key purpose. We strive to be an industry leader in sustainability with our promise to be net-carbon zero by 2050 and through the use of renewable energy sources to power our manufacturing sites. Developing our local communities will enable us to provide an Ireland for the future.