Waste Systems
To connect to your soil system, Wavin offers two solvent weld waste ranges to cover your installation requirements – ABS and PVC-C. See system information below.

PVC-C solvent weld waste
Suitable for both interior and exterior use, the PVC-C Solvent Weld Waste system is designed to withstand higher in-service temperatures. Manufactured from PVC-C, it has UV and heat resistance as well as fire retardant properties. Available in 32, 40 and 50mm sizes. Kitemarked to BS EN 1566-1:2000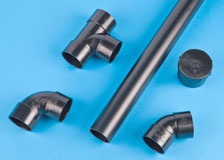 ABS Solvent Weld White Waste System
A simple to use system with quick efficient assembly via solvent weld jointing. Available in sizes 32, 40 & 50mm in white only. Manufactured in ABS (Acrilontytrile Butadeine Styrene) to BS EN 1455-1: 2000.