Vortex Flow Control Valves
Wavin has partnered with Mosbaek A/S to develop a new range of specialist vortex flow control valves. Each valve is bespoke in its design and manufacture thus, enabling the valve to meet precise performance criteria resulting in the optimum control of stormwater discharge rates up to 80 litres/second.
This product range is not sold via our Online Shop. In order to purchase, please contact projects.ie@wavin.com as usual for a quotation.
Bespoke Design
Each Wavin + Mosbaek valve is individually designed to deliver optimum performance. The valves are produced from corrosion resistant stainless steel and are self-activating with no moving parts or power requirements.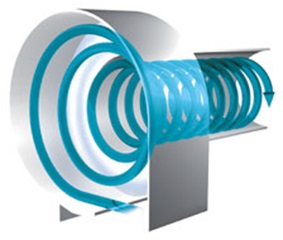 Applications
Typical applications for vortex vales are; modular attenuation tanks (e.g. AquaCell, Q-Bic Plus), traditional attenuation tanks, infiltration and/or soakaway structures and discharge points from ponds and/or wetlands.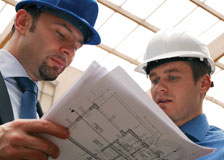 Background
Engineer Joergen Mosbaek Johannessen was the first to harness the vortex principle as a water brake, a concept that has made his valves world-leading. Based on 50 years of expertise and by means of specially developed software packages, all Wavin + Mosbaek valves are designed to meet the exact requirements of our customers.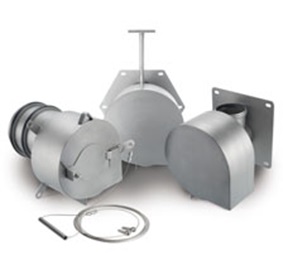 Tornado
The Wavin + Mosbaek range offers three different types of integral by-pass and drain-down facilities allowing access for cleaning. Beginning with The Tornado range of Vortex Valves, this offers an emergency drain-down facility by means of an integral, pivoting door mounted on the front face of the unit. The bypass door when open exposes a larger aperture which allows the chamber to be drained.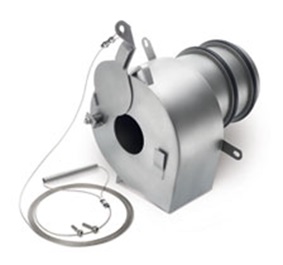 Typhoon
The Typhoon range provides the security of an overflow and emergency drain down facility in one. This facility is activated by simply pulling the up-stand pipe clear of seating, from the surface.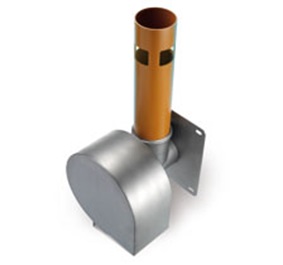 Hurricane
The Hurricane range also provides an emergency drain down facility by simply removing the valve from its location plate. This Hurricane valve consists of two elements: the first, a location plate fixed to the inside of the chamber and the second is the valve head which features a customised and pre-fitted lifting rod and handle.