Wavin OsmaDrain with RootSeal Technology

Wavin OsmaDrain - the definitive and comprehensive PVC-U gravity drainage system for residential, commercial and industrial projects. One of the UK's most trusted and leading names in plastic drainage systems.
Wavin has developed a new technology for Wavin OsmaDrain to provide added protection from trees and root ingress. Called RootSeal Technology, it uses a natural mineral additive to harmlessly repel tree roots reducing potential damage, upheaval and considerable costs - both financial and environmental. This solves a number of challenges for architects, specifiers, developers and planners.
Here at Wavin, we are determined that our corporate commitment to building healthy, sustainable environments actually feeds into tangible product innovation and change. RootSeal Technology perfectly illustrates that, bringing real performance and sustainability benefits.
Mike Ward , Territory Director - UK & Ireland
How RootSeal Technology works
Inhibitor
An inhibitor is embedded in a new easily identifiable green coloured seal acting like a natural force field.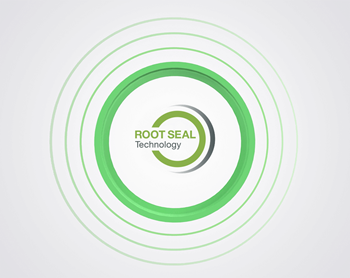 Pipe without RootSeal Technology
The inhibitor deters roots from penetrating the pipe or fittings by reducing the intensity of root growth around the socket and seal, while having no other impact on the roots, surrounding soil or wildlife.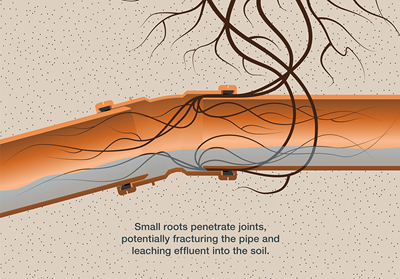 RootSeal embedded in Wavin OsmaDrain coupler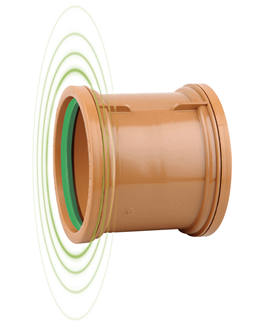 Wavin OsmaDrain pipe with RootSeal technology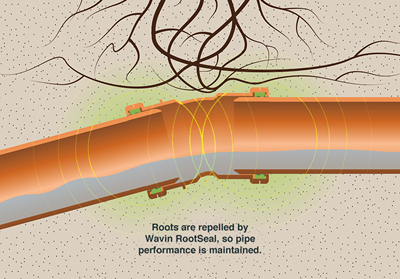 See RootSeal in action
Our introductory video highlights the benefits of RootSeal Technology to both customers and the environment. With a side-by-side comparison of the pipe system, you can see the potential effects of root ingress and the protection afforded by RootSeal.
Key benefits of RootSeal Technology
Active protection
Actively inhibits root ingress and any leaching from damaged seals.

Environmentally safe
Environmentally safe, with no damage to the surrounding soil, trees or wildlife.

Extended system life
Can extend pipe system life and safeguards optimum performance.

Proven to protect
Scientifically developed, tested and proven to be effective.

Fewer repairs
Mitigates the cost, upheaval and environmental impact of repairs and replacements caused by root damage.

No extra cost!
A no-cost enhancement to the market-leading foul water drainage system.

RootSeal the story in full - eBrochure
To learn more about the inspiration for RootSeal, the science behind it and all the benefits it delivers for your next foul water drainage installation, just download the E-brochure.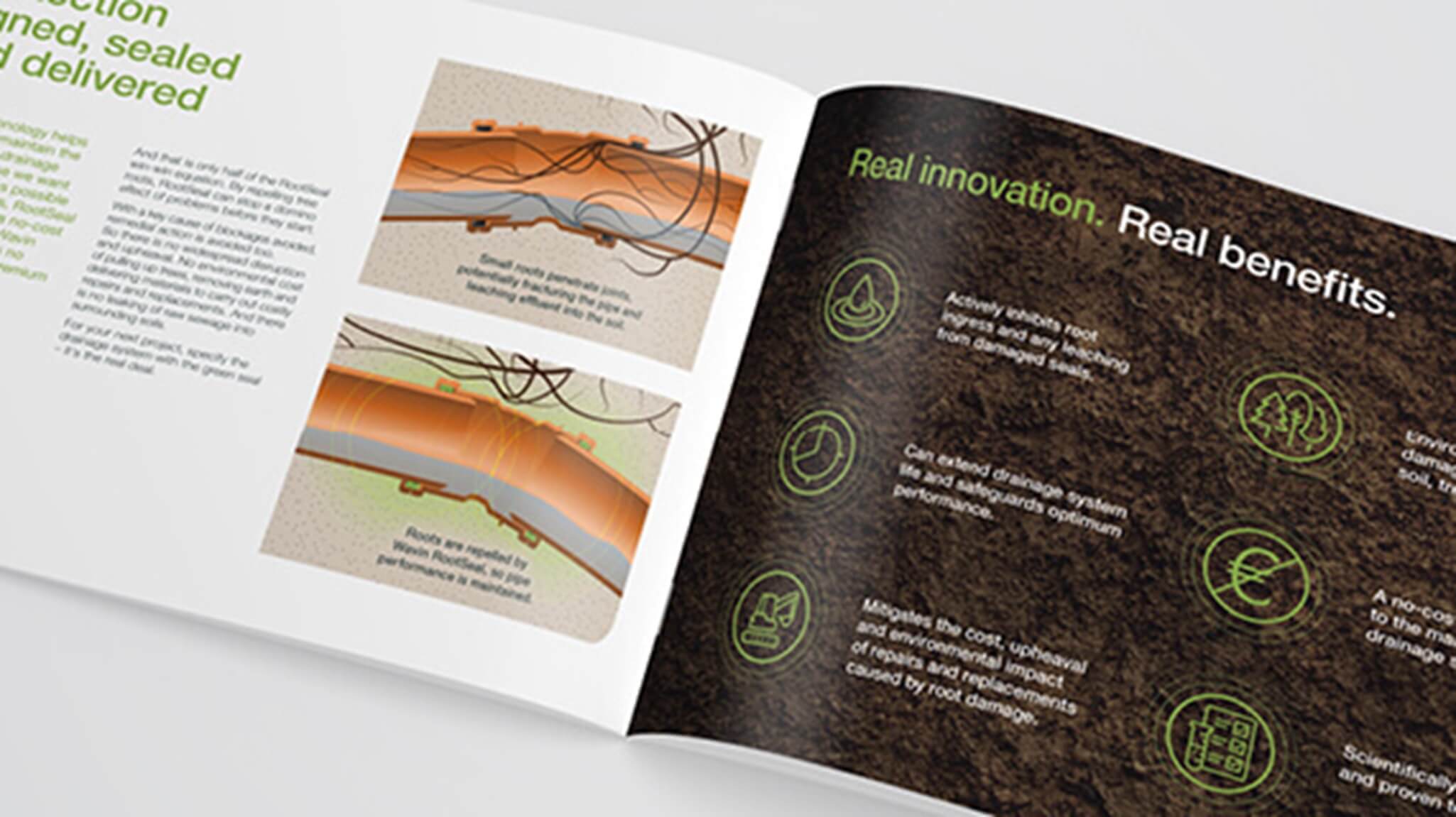 View the range
For specifiers and installers, Wavin OsmaDrain is already a trusted choice wherever a proven, versatile and compliant gravity drainage solution is required. Now featuring our unique RootSeal Technology – at no additional cost – OsmaDrain has to be the go-to choice.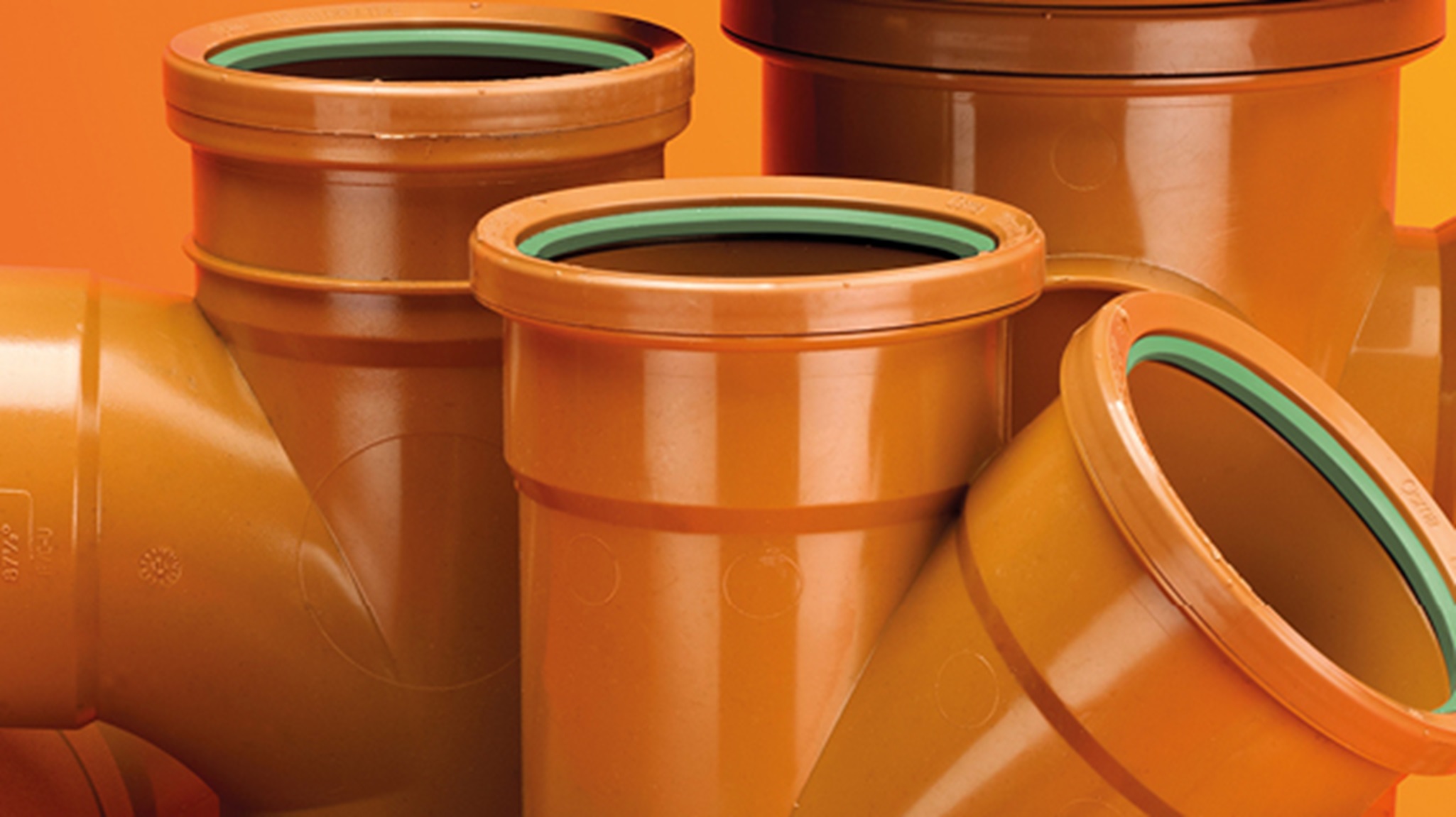 Call us
Contact one of our experts today or fill
out the form below with your enquiry.
Call us - 01249 471 187
Monday - Friday 8.30 - 17.00 hours

Friday 8.30 - 15:00 hours

Saturday - Closed

Sunday - Closed