Q Bic Plus
Wavin is a recognised market leading manufacturer in stormwater solutions, and the expertise we have gained through 15 years of innovation in infiltration and attenuation units worldwide has been embedded into every aspect of Q-Bic Plus.
#2 Faster installation
Lightweight, easy to carry with dedicated hand grips and a walkable top deck, installation can be done in half the time of comparable units. The push-fit functionality with smart, integrated connectors requires no pins or clips, and plates simply click into place.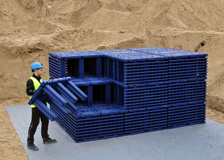 #1 Complete design freedom
Designed from the ground up to offer complete design freedom, optimum performance and unhindered access, so any issues can be easily identified and rectified. Inspection access inlets and outlets can be placed in almost any position. With 70% open floor space, high storage volume copes with peaks in rainfall and sets new standards in tank accessibility. For your BIM projects, you can count on the Q-Bic Plus Revit family with integrated intelligent assistance to achieve an accurate system representation.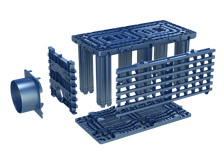 A new standard in accessibility
Without compromising its ability to manage peaks in rainfall, the revolutionary design of Q-Bic Plus makes installation and inspection easier and faster. As a result, it meets the demands of users and adopters to be able to quickly identify and rectify issues, or carry out routine inspection and maintenance. Read about our installations in Europe.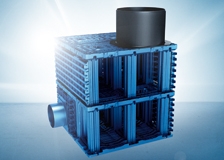 Contact our team of experts today
Our advisory services help you get the best from Wavin products and solutions. Contact us right at the start of your project, so we can help you achieve the best in price and performance.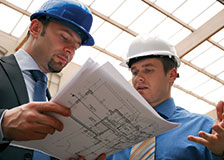 #3 Total accessibility
Take advantage of the most open tank design on the market, with simple and effective maintenance to ensure optimal tank capacity throughout its lifetime. Wide access, bi-directional channels of up to 370mm allows entry for CCTV and cleaning nozzle reach, and means fewer vertical access points are required.