Pressfit Tigris Gas
Work on the system is easy and fast thanks to our standard Wavin Tigris pressing tools. The flexible PE-X/Al pipe means that few connections are needed.

What's next?
You can use the standard white Tigris PE-X/Al pipe for multiple purposes. Thanks to the oil-resistant O-ring in the Tigris gas fitting, you can also use it to build a compressed air system.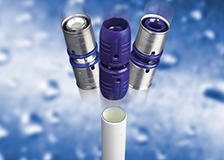 Flexible multilayer pipe with excellent shape retention
We offer this system with a flexible multilayer pipe (PE-X/AI) as standard, which has excellent shape retention when the pipe bends. The Tigris PE-X/Al pipe for gas can easily be identified by its yellow colour. Tigris gas fittings can be recognised by their yellow ring.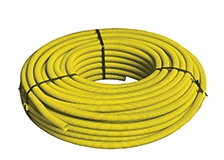 Reliable, leak-proof seal
Thanks to the NBR O-ring in the Tigris gas fitting, you can be sure that you always create a reliable leak-proof connection. The yellow ring in the Tigris gas fitting prevents contact corrosion between the aluminium layer of the pipe and the brass fitting.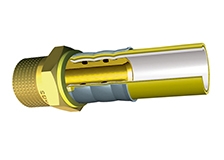 No worries about connecting to accessories
If you choose the Tigris gas system, you don't have to worry about connections to taps, valves and other accessories. We offer a comprehensive range of screw fittings, enabling virtually any connection to be made in no time at all.